Digital out-of-home (DOOH) advertising got off to a fast start in the UK this year, surging 28% compared with Q1 2016. The segment's performance buoyed an otherwise flat UK out-of-home (OOH) advertising market.
DOOH spending for the quarter totaled £107 million ($144.4 million), according to OOH advertising trade group Outsmart and PricewaterhouseCoopers (PwC). The segment's double-digit investment boost propelled digital's share of total OOH revenues for the quarter to 42%, an increase of 9.4 percentage points vs. Q1 2016 and up from the 38% share seen for 2016 overall.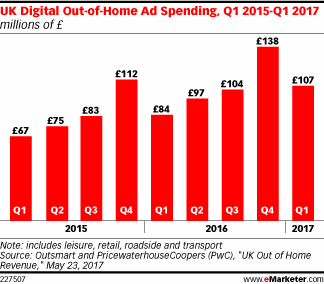 By comparison, total OOH revenues for Q1 2017 shrank 0.8% year over year to £252 million ($340.1 million). But revenues for the 12 months ending in March were up 3% vs. the previous 12 months.
"The transformation of the out-of-home medium continues with further investment in digital," said Justin Cochrane, Outsmart chair and CEO of Clear Channel UK. "State-of-the-art inventory and technology continue to enable advertisers to benefit from the flexibility and dynamism of digital out-of-home, as well as complement or amplify classic out-of-home campaigns."
DOOH spending has been rising steadily in the UK.
Total investment was worth £423 million ($570.9 million) in 2016, an increase of nearly 26% over 2015, according to Outsmart and PwC. But other sources forecast slowing investment this year. GroupM predicts spending will rise by a relatively modest 17.5% in 2017, the smallest increase in at least eight years.
—Cliff Annicelli